Bounce House Rentals Brownsburg IN
The Best inflatable bounce house company for your Birthday Party or Corporate Event
Indy's Jump Around Bounce House Party Rentals
At Indy's Jump Around Bounce House Rentals Indianapolis, you will find a selection of the best bounce house rentals that fit any party theme. You will find an incredible selection of licensed character-themed bounce houses to match the theme of your next celebration, such as; Disney Frozen Bounce House, Minnie Mouse Bounce House, and Teenage Mutant Ninja Turtles Bounce House & Paw Patrol! Incorporating inflatables into your school event is a breeze. Host your mini carnival full of Bounce houses, Obstacle Courses, and Water Slides for everyone to enjoy. A proper assortment of these attractions will bring in the crowd and keep them returning for more. Our Bounce House Rentals have also proven successful at Church Events. Coordinating a Church Event is beneficial for those who organize it and those who get to enjoy it. For a church to welcome its community's youth to enjoy church youth events is a commendable gesture that allows children to enjoy their day Bouncing Around in one of Jump Arounds Bounce Houses in a safe environment.
Bounce House Rentals
Order-by-Date

All Bounce House Rental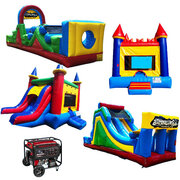 Bounce House Packages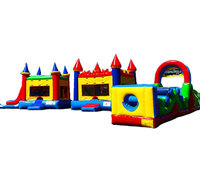 Water Slide Rentals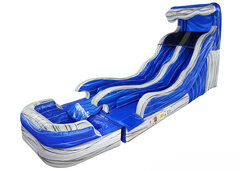 Bounce House Slide Rentals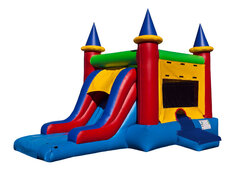 Bounce House Obstacle Course Rentals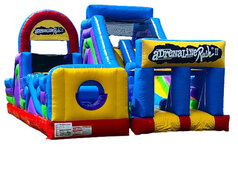 Standard Bounce House Rental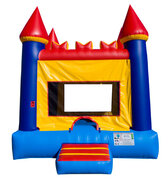 Inflatable Slide Rentals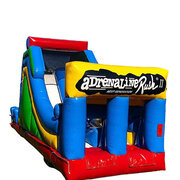 Carnival Game Rentals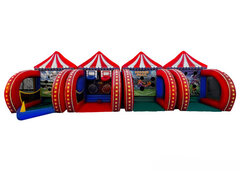 Have A Birthday Party with a Bounce House Rental in Brownsburg
Some people like to have a quiet, low-key day at work, while others prefer celebrating with friends and family when it comes time for your birthday party though there's no such thing as too much fun! At Indy's Jump Around, we make sure that everyone enjoys themselves thoroughly on their special day so they can celebrate in style from the start till finish - all without anyone getting bored or overwhelmed by how many activities are going down during this period. This is why having a Bounce House at your birthday party is so important. Check out our standard Bounce house rental!
Bounce House Rentals Brownsburg IN
Looking for Ultimate Fun Get a Bounce House Obstacle Course for your next Event? It's essential to see the great benefits Obstacle Courses have to offer. Renting a bounce house can seem stressful and might deter some Event Coordinators or parents from renting one. Before you schedule your bounce house obstacle Course rental, choose the right company. Indy's Jump Around has delivered thousands of inflatable products throughout the Indianapolis Indiana Area. We keep things simple so your guest can bounce around and you focus on making memories at your party. From school field days to Church Youth Events, our Bounce House Obstacle Courses are the perfect choice for kids and adults. The best part about our Bounce House Obstacle Course is that The Fun is always moving. Participants start on one end and exit on the other, unlike a bouncy house. Indy's Jump Around Bounce House has many different options regarding obstacle courses. Click the Link below and let the good time's Roll!
Bounce House Obstacle Course
Looking for the best bounce house rentals near Brownsburg? Look no further than Indy's Jump Around! We are your go-to bounce house rental company, offering a wide range of inflatable options to make your party or event a huge success. From exciting waterslide rentals to bounce houses that are perfect for jumping house rental fun, we have it all. Our extensive inventory of party rental equipment ensures that you find the perfect fit for your event. Whether it's a birthday party, corporate gathering, or any other special occasion, our bouncy house rentals and event rentals are sure to keep your guests entertained and bouncing with joy. Trust Indy's Jump Around for all your house and party rental needs. We are committed to providing exceptional service and ensuring your event is a memorable one. Contact us today to book the best bounce house rentals in Brownsburg and let the fun begin!
Most Popular and featured Bounce House Rentals
At Indys Jump Around, we have some of the most fun and exciting inflatables in the greater Indianapolis area! For Girls, We have the Frozen Bouncy House, Minnie Mouse, and more! For the boys, we offer
Spider-Man
, Toy Story, Monster Inc., and More! We also have
Paw Patrol
, Minions, and Ninja Turtles as well! We also offer
Castle bounce house rentals
, water slide rentals, and many other different options! Make sure to check out all of our inventory and package deals as well!
Does Jump Around Deliver Bounce House Rentals Near Me?
Indy's Jump Around Bounce Houses has been delivering Inflatables to birthday parties and Corporate events in Indianapolis since 2009. We aspire to be the premier Inflatable Rental Company in the
Indianapolis, Indiana
, Area. Indy's Jump Around has delivered thousands of inflatable units throughout Central Indiana (Indianapolis) and many cities such as
Fishers
,
Columbus
,
Crawfordsville
,
Greenwood
,
Carmel
,
Noblesville
,
Zionsville
,
Franklin
,
Avon
, and more! Teamwork, Communication, and Speed are the core values of Indy's Jump Around with the purpose of Customer Satisfaction, Employment Opportunities, and Growth. We offer standard Bounce Houses, Water Slides, Inflatable Obstacle Courses, and more. We are open year-round. Our main seasons are Summer, Fall, and Spring, with Winter being our prep season. We offer competitive employee pay, bonus incentives, and company parties. We deliver to Homes, Schools, Churches, Festivals, and many more. Why choose Indy's Jump Around Bounce House Rental? Because we are devoted to providing our customers with the best quality service and the safest, cleanest, and most Popular Bounce House products that will make any event unforgettable. Our special packages include great discounts and are designed to provide the utmost excitement, whatever the occasion. We believe honesty is the key to any relationship; therefore, we are honest about our work and anything we do. So when you are looking for a Bounce House Rental, you know you can trust Indy's Jump Around Bounce House for all your party Needs.