Bounce House Rentals in Indianapolis | Get the Best Party Fun Now!
Imagine a birthday party, corporate event, or community gathering that is an absolute hit, leaving lasting memories for all who attend. Picture the smiling faces of children and adults alike as they bounce, slide, and laugh together. This dream can become a reality with Indianapolis Bounce House Rentals! Let's dive into how renting a bounce house can take your event to the next level.
Order-by-Date

All Bounce House Rental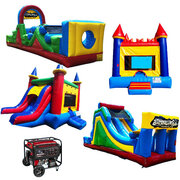 Bounce House Packages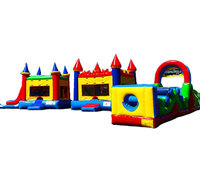 Water Slide Rentals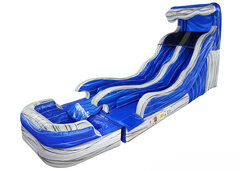 Bounce House Slide Rentals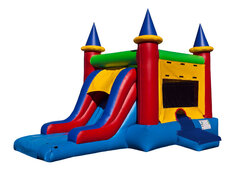 Bounce House Obstacle Course Rentals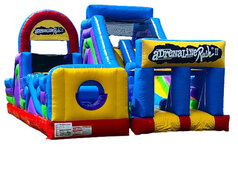 Standard Bounce House Rental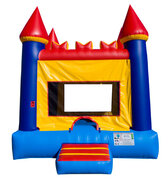 Inflatable Slide Rentals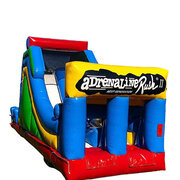 Carnival Game Rentals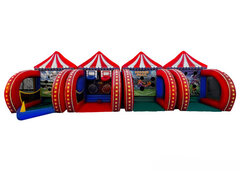 Key Takeaways With Bounce Houses
Experience the ultimate party fun with Indianapolis Bounce House Rentals - offering top-of-the-line inflatables at an affordable price!

Enjoy stress free rental process, secure online booking & delivery/setup services for a memorable experience.

Quality service, cleanliness of equipment and helpful staff make it the perfect choice for any event!
Indianapolis Bounce House Rentals: The Ultimate Party Experience
Indy's Jump Around Bounce House Rentals is your go-to destination for the best bounce house rentals in the greater Indianapolis area and beyond. Our extensive selection of inflatable houses, slides, and combo units are perfect for any event (be it a birthday party or corporate gathering) while our prices make hosting an amazing occasion effortless! We always prioritize safety by offering only top quality materials that have been regularly inspected as well as cleaned after each use. These features guarantee fun no matter what age you may be.
No need to wait around: get ready to host something extraordinary with Indy Jump Around Bounce House Rentals today!
Birthday Party Bounce House Rentals Indianapolis
Affordable Prices
At Indy's Jump Around Bounce House Rentals, we believe that having a great time doesn't have to come at a hefty price tag. We offer very competitive rates starting from $155 for any rental in Central Indiana area. Our prices depend on the size of the bounce house, length of your event and location – so you can be sure to get top value for money when renting one with us!
For instance, if you would like small bounce house set up for 4 hours within Indy boundaries - it starts just at 187$. There are plenty of high-quality inflatable houses available here. Pick yours today without stressing out about expenses and enjoy an amazing party experience with our budget friendly party rentals here!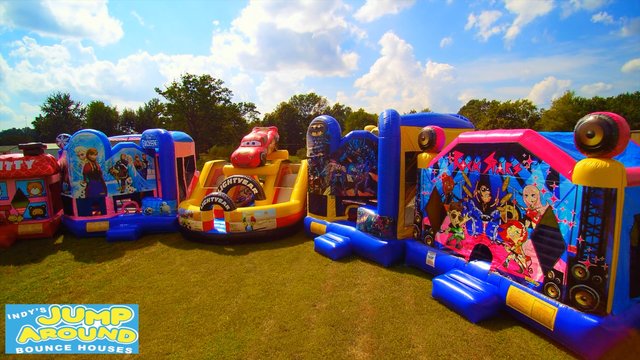 Wide Selection Of Bounce Houses
Indy Jump Around Bounce House Rentals provides an abundance of different bounce houses, inflatable slides and combo units to guarantee a unique experience. Children are sure to be delighted with the colorful toddler bouncers while older people can challenge themselves on our obstacle courses!
You'll find something perfect for your event no matter if it's a corporate gathering or birthday party- from classic jumpers to themed combos as well as moonwalk rentals. There is plenty of fun options available in Indianapolis! Let us help you create unforgettable memories by choosing the appropriate rental that will make your event truly special.
Bounce house rental Packages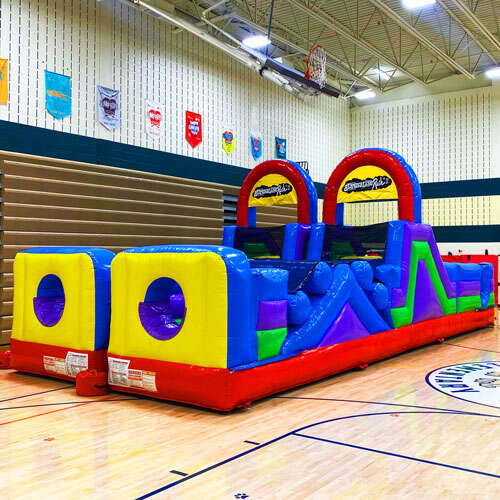 Bounce House Obstacle Course
Looking for Ultimate Fun Get a Bounce House Obstacle Course for your next Event? It's essential to see the great benefits Obstacle Courses have to offer. Renting bounce houses can seem stressful and might deter some Event Coordinators or parents from renting one. Choose the right company before you schedule your bounce house obstacle Course rental.

Indy's Jump Around has delivered thousands of inflatable products throughout the Indianapolis, Indiana, Area. We keep things simple so your guests can bounce around and you focus on making memories at your party. From school field days to Church Youth Events, our Bounce House Obstacle Courses are the perfect choice for kids and adults.

The best part about our Bounce House Obstacle Course is that The Fun is always moving. Unlike a bounce house, participants start on one end and exit on the other.

Indy's Jump Around Bounce Houses has many different options regarding obstacle courses. Click the Link below and let the good times Roll!
Bounce House Obstacle Course Rentals
Quality and Safety: Our Priority
At Indy's Jump Around Bounce House Rentals, we take the safety and quality of our inflatables very seriously to provide a safe yet entertaining experience for our customers. We are committed to working with reliable bounce house rental providers who guarantee their products' condition through routine inspections, upkeeps, and cleanings.

With us at your side you can be sure that each one of the bouncy houses is insured as well as certified by security experts giving you extra peace-of-mind during your event. Plus after every use all the items get sanitized thoroughly in order to maintain an immaculate atmosphere when it comes time for playtime! So go ahead and have a blast knowing that top priority has been given towards creating maximum fun while still ensuring ultimate safety thanks to Indy Jump Around Bounce House Rentals!
Bounce House Rentals Indianapolis Area
Indy's Jump Around Bounce House Rentals Indianapolis offers the best bounce houses company for large events in the Indianapolis area. We provide top-quality party rental equipment, inflatable games, and water slides for kids ages 5 to 13 to have extra fun at your birthday party, graduation party, block party, church event, or corporate event.
Huge Success is Guaranteed for Your Next Birthday Party.
With affordable prices, excellent service, and general liability insurance, your next Birthday is guaranteed to be a huge success. Our bounce houses and bouncy castles are delivered clean and set up by our experienced staff to ensure a stress-free and memorable experience. The kids will love our combo bouncers and inflatables, making it the best party ever!
Best Bounce House Rentals for Your Next Event
Indy's Jump Around Bounce House Rentals provides the best bounce house rentals in Indianapolis, with a wide range of equipment and inflatables. Whether planning a small gathering or a significant event, we have what you need to make your celebration successful. Our rental equipment is available for kids ages 2 to 13, with water slides, bounce houses, and inflatable games.
Rent with Confidence for Your Next Party
At Indy's Jump Around Bounce House Rentals Indianapolis, we pride ourselves on providing excellent service and delivering clean, safe equipment for your next party or event. Our party rentals range from 12 to 22, providing a perfect choice for families, businesses, and organizations. So why not rent with confidence and let us make your next celebration a success
Cleanliness and Sanitization
At Indy Jump Around Bounce House Rentals, we value the safety and enjoyment of your guests above all else. That's why each rental inflatable is thoroughly sanitized using commercial vinyl cleaners with strict cleanliness protocols before its next event. You can be sure that when you rent from us, no detail has been overlooked in making certain our inflatable bounce houses are spotless and germ-free, a safe space for your visitors to jump around or play without worry.
We recognize how important it is for hygienic house rentals. Every effort taken towards upholding this promise will never go unappreciated greatly appreciated by those who hire from us!
Insurance and Certifications
At Indy Jump Around Bounce House Rentals, we place a high importance on safety and insurance. All our bounce houses come with various types of coverage such as Commercial General Liability, Equipment Rental Liability and Personal Liability to ensure that you are always protected in any type of unexpected occurrence. We also have an SIOTO certificate to back up our adherence to the highest security protocols within this industry.
By booking one or more bounce house rentals from us, not only will your guests experience thrilling fun activities at the event but it comes along with peace-of-mind knowing you're being taken care by professionals who prioritize both safety and assurance policies alike! So go ahead – secure a reservation now for complete trustworthiness here at Indianapolis Bounce Houses !
Perfect for All Occasions
Indy Bounce House Rentals make a fantastic addition to any event, like a graduation party a block party. Their appeal is universal and they can bring extra fun for all ages at birthday parties, corporate functions or school fundraisers alike.

Our bounce houses and obstacle courses are ideal for these types of events as they provide hours of entertainment while encouraging collaboration among guests! Whatever the occasion might be - from children's birthdays to company team building activities – Indianapolis Bounce Houses Rental have you covered with our safe rentals that will surely help create memorable moments in your celebration.
Birthday Parties
When it comes to making your child's birthday party truly special, Indy's Jump Around Bounce House Rentals can help you make the event unforgettable. Our inflatable games, character-themed combos and moonwalk rentals are a great way to add some extra fun for everyone at the party! We understand how important these moments are, so we offer convenient online booking with timely delivery services that will ensure all goes as smoothly as possible when planning such an important occasion.
These bounce houses provide endless amounts of enjoyment. While kids have loads of entertaining play time they also get to stay safe in this protected environment set up just for them on their special day. Kids love celebrating with our bouncy options whether choosing one or several of standard bounce house rentals - they're bound together creating extra excitement during any event!
We believe children should be able enjoy themselves worry free while having an awesome adventure, which is why renting from us gives parents added peace of mind knowing each rental has been inspected thoroughly before being delivered right away allowing more celebration between kids loved friends and family members alike on this joyous occassion..
Corporate Events and Team Building
If you're planning a corporate event and want to make it more fun, Indy's Jump Around Bounce House Rentals can help. Our selection of bounce houses and our obstacle course courses are ideal for building teams while keeping your employees engaged in the experience. Whether small or big scale events we have just what you need!
*So much fun, why not infuse some life into your corporate gathering with our rental options? Choose from an array of unique inflatables that will create amazing memories at any event here in Indianapolis, all provided by Bounce Houses rentals!
Community Events
For your next community or church event ever, Indy's Jump Around Bounce House Rentals is the perfect way to create a lively atmosphere. With an array of bounce houses, slides and combo units available - something for all ages and interests – they offer fun entertainment that encourages socialization between attendees. And not just any ordinary rentals. These are quality bouncy house experiences sure to elevate the experience at fairs, festivals or youth ministries alike!
Party Rentals
Indy's Jump Around is a leading party rental company specializing in bounce house rentals for birthday parties, block parties, and big events in the greater Indianapolis area. Our mission is to provide great service and a stress-free experience for you and your guests.
Summary
At Indy Jump Around Bounce House Rentals, we provide excellent bounce house rentals that are suitable for a variety of events – from company gatherings to birthday parties. Our offerings guarantee both fun and safety due to our commitment towards quality products, cleanliness standards, insurance coverage & stress-free rental process with online booking! This allows you the flexibility to focus on creating memorable experiences while having your next event filled with inflatables available at reasonable costs.
So don't wait any longer, elevate your special occasions today by renting out a bouncy castle from us here in Indianapolis and make it something people will talk about long after its over!
Frequently Asked Questions
What types of events are suitable for bounce house rentals?
Bounce house rentals can be a great addition to any sort of event, such as corporate functions or birthday bashes. They're also the ideal choice for team building activities, festivals, fairs and community ministries, making them the perfect addition for all sorts of celebrations!
Are Bounce House Rentals affordable?
For those in Indianapolis, renting a bounce house is an affordable and entertaining option. Starting as low as $185, Bounce House Rentals are perfect for providing fun no matter the budget! In particular if you're looking to liven up your next event or gathering with something special - there's nothing quite like bouncing around at one of these best bounce house rentals. from Indy
How does Jump Around Bounce House Rentals ensure cleanliness and sanitization?
At Indianapolis Bounce House Rentals, we understand the importance of cleanliness and sanitation. Our inflatables go through a detailed process after every rental to make sure it is safe for our customers: each one receives commercial vinyl cleaners that meet safety regulations. We take this very seriously and ensure nothing but top notch hygiene standards are met with all of our rentals!
All house renting done by us in Indy has been held up to these same specifications – guaranteeing you have an enjoyable experience no matter what bounce house or other equipment is chosen.
What insurance coverage is provided for bounce house rentals?
Our Certified and Insured Safety Standards allow us to provide general liability insurance coverage for Equipment Rental Liability, Personal Liability as well Commercial General Liability, making our Bounce House Rentals worry-free!
How can I book a bounce house rental with Indianapolis Bounce House Rentals?
Getting a bounce house rental from Indianapolis Bounce House Rentals can be accomplished easily and quickly by using our convenient online reservation system! With this service, located in Indianapolis for renting houses with an included bouncy feature, customers will have no problem finding
A Great Experience for Everyone
At Indy's Jump Around party rentals, we strive to provide the best parts of a party rental experience for you and your guests. Our bounce houses are safe, fun, and perfect for kids of all ages. Our owner is committed to providing professionalism and great customer service, and our prices are unbeatable for the value we provide.

Don't hesitate to check out our website for more information and to place an order. Trust us to provide a stress-free and memorable experience for you and your children.
Indy's Jump Around Bounce House Rental Company
Indy's Jump Around Bounce Houses has been delivering Bounce Houses to parties and events since 2009. We aspire to be the premier Inflatable Rental Company in the industry. Indy's Jump Around has provided thousands of inflatables for corporate event rentals and even for a kid's birthday party throughout Central Indiana (Indianapolis) and other cities such as
Brownsburg
,
Greenwood
,
Avon
,
Columbus
,
Crawfordsville
,
Noblesville
,
Zionsville
,
Fishers
,
Carmel
,
Franklin
, and more!
Teamwork, Communication, and Speed are the core values of Indy's Jump Around with the purpose of Customer Satisfaction, Employment Opportunities, and Growth. We offer standard Bounce Houses, Water Slides, Inflatable Obstacle Courses, and more.
We are open year-round. Our main seasons are Summer, Fall, and Spring, with Winter being our prep season. We offer competitive employee pay, bonus incentives, and company parties. We deliver to Homes, Schools, Churches, Festivals, and many more.