Show Primary and Secondary Categories
Bounce House Rentals - Indianapolis' Premier Party Rentals
Are you planning a party in Indianapolis and looking for a fun way to entertain your guests stress-free at affordable prices? Look no further! We have the Best Bounce house rentals in Indianapolis and the greater Indianapolis area that are the perfect addition to any event, providing hours of fun for kids and adults alike.

We'll guide you through the process of renting a bounce house in Indianapolis, highlighting the best rental companies, affordable pricing options, and the importance of quality and safety. Prepare to make your next party in the greater Indianapolis area a bouncing success!
Bounce House Rental Company
Discover Indianapolis' premier party rentals with Indy Jump Around Inflatable Rentals.

Affordable prices on our bounce houses, quality equipment & safety, plus flexible cancellation policies for weather-related issues.

Timely delivery & setup, stress free, with helpful Friendly staff make Inflatables the ideal choice for any event!
Indy's Jump Around Party Rentals takes pride in offering top-notch bounce houses and other inflatables for a safe and enjoyable experience. Their equipment includes:
Rentable Bounce Houses

Water Slides

Obstacle Courses

Interactive Games
All equipment is made from premium materials and is regularly inspected and cleaned to ensure the safety of all guests.
With their focus on providing the best equipment and customer service, you can trust that your event will be a hit with Indianapolis Bounce House Rentals.
Featured Items Product Name
$0 Product Name
$0 Product Name
$0 Product Name
$0
Cleanliness and Sanitization
Clean and sanitized bouncy castles are crucial for the safety and enjoyment of your guests and greatly appreciated. Indy's Jump Around follows strict cleanliness and sanitization protocols for all their rental equipment.
Each product is thoroughly disinfected after each use, ensuring a safe and clean environment for your guests to play in.
Weather-Related Cancellations
Mother Nature can sometimes throw a wrench in your party plans. That's why Indy Jump Around Rentals offers flexible cancellation policies for weather-related issues. We permit the deposit to be utilized for a new rental date that never expires, ensuring you can still have your moonwalk rental for your birthday party even if the weather doesn't cooperate.
No matter what the weather throws at you, Indy Jump Around Rentals has you covered in the greater Indianapolis Area and Central Indiana.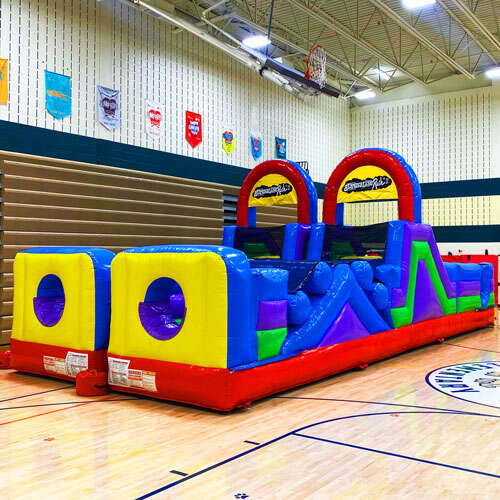 Bounce House Obstacle Course Rentals
Looking for Ultimate Fun Get a Bounce House Obstacle Course for your upcoming backyard parties or block party? Before you schedule your Bounce House Obstacle Course Rental, you can choose the right company. Indys Jump Around Inflatable Party Rentals has delivered and set up thousands of products throughout the Indianapolis, Indiana, Area with an amazing jumping house.
Outdoor Rentals For All Occasions
We keep things simple so your guests can bounce around and you focus on making memories at your event, from school field days to Church Youth Events. The best part about our Obstacle Course is that The Fun is always moving. Unlike a bouncy house, participants start on one end and exit on the other.

Indy Jump Around party rentals have many different options regarding obstacle courses. Click the Link below to rent for your next event and let the good times Roll! It is also great for a Corporate event and Inflatables near me!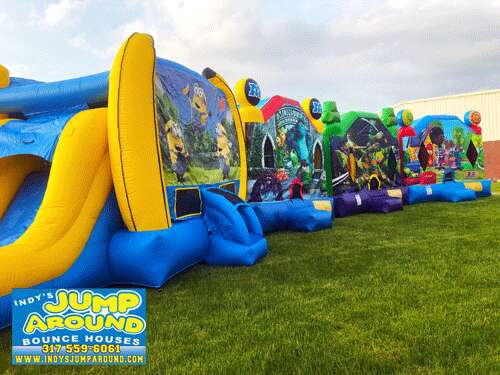 Corporate Events
At Indy Jump Around, we love to set up big events for Corporate Events, Large events, schools, and churches. Over the years, our friendly staff has brought bounce houses for many school field days and fall festivals to schools all over the greater Indianapolis area and other cities such as Greenwood, Carmel, Indiana, Beech Groove, and Fishers Schools for elementary and High School grade students.

The kids loved our selection of Bouncy Castles. We have exciting Water Slides and bouncer slides, which are great for the summer, and the kids loved our Paw Patrol Waterslide rental and our Paw Patrol Inflatable and had so much extra fun!.

The prices on our website accurately reflect your pay; applicable fees may apply depending on setup location, surface, etc. We also have general Liability insurance to cover your next event with inflatables near me, which is greatly appreciated by our customers. Coming soon will be our Inflatable Games!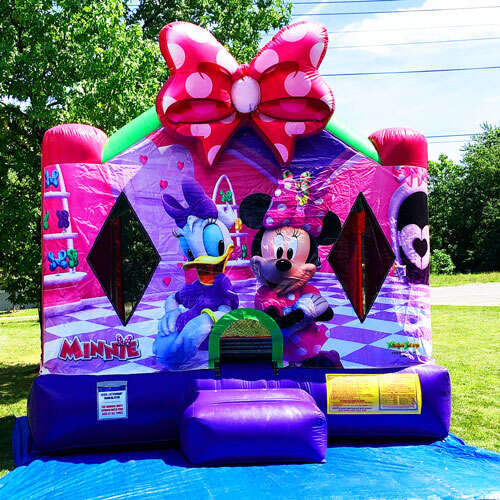 Birthday Parties Rentals
At Indys Jump Around party rentals and
Bounce House Rentals
in Indianapolis, customers say we set up the best bounce houses in central Indiana; you will find a selection of popular Bounce Houses for your next birthday party or upcoming big events, and no one can beat our moonwalk rental prices.
You will find an incredible selection of licensed character-themed bouncer combos to match the theme of your next celebration, such as
Disney Frozen
bouncy Castle rental, Minnie Mouse Jumper, and Teenage Mutant Ninja Turtles Bouncy Castle & Paw Patrol red, blue, and White Bounce! Host your mini carnival full of Bounce houses, Obstacle Courses, and Water Slides for everyone to enjoy.
Our Bouncy Castle rentals and Jumping House have also proven successful at Church Events. Coordinating a Church Event is beneficial for those who organize it and those who enjoy it with our stress-free process and easy setup for your kid's next birthday party. Coming soon will be our Inflatable Games!
Inflatable Bounce House Rentals In Indianapolis
What types of events are suitable for rentals?
Moonwalk rentals are an excellent addition to birthday parties, corporate events, and community celebrations kids have so much fun!
How much do bounce Castle rentals in Indianapolis cost?
Bouncy Castle rental prices in Indianapolis vary depending on size and features, averaging from $180 to $680 daily.
What safety precautions should be taken when renting a bounce house?
When renting a Inflatable bounce houses, it is essential to rent from a legitimate company that inspects and maintains its equipment and provides the necessary insurance coverage. To ensure safety when renting a bounce house, choose a reputable rental company and confirm that the structure is clean, maintained, and insured with valid general liability insurance. Make sure the structure is installed correctly as well.
Does Jump Around Party Rentals Deliver Bounce House Rentals Near Me?
When you're looking for the Best
bounce house rentals near me
, Customers say Indy Jump Around Birthday Party Rentals business has had the best bounce houses in the Central Indiana Area for parties and events since 2009. There are many Inflatable bounce house places in the Indianapolis area, but Indy Jump Around has unique bouncy house rentals. We aspire to be the premier Company in the
Indianapolis, Indiana
, Area by offering excellent service and affordable prices, and you can view our bounce house rental cost on our website.
Indy's Jump Around Party Rentals has delivered and set up thousands of units throughout Indiana (Indianapolis) and has been a huge success for events such as a block party and corporate event. We offer standard Bounce Houses, Water Slides, Obstacle Courses, and more. We are open year-round. We have delivered to Homes, Corporate gatherings, Churches, Festivals, and many more.
Why choose Indy's Jump Around? We are devoted to providing our customers with the best quality service and the safest, cleanest, and most Popular party rental products and bouncy house rental that will make any event unforgettable.
So when you are looking for a Bouncer for your child's Birthday party or graduation party, you know you can trust Indys Jump Around Party Rentals to set up the best bounce house rentals Indianapolis offers for your birthday party and will help you throw the best party for your next party.
Indy's Jump Around provides top-quality bounce houses and bounce slide combo rental for your events and parties. You can easily find 'inflatable jumpers near me" that are guaranteed to bring excitement and joy to children of all ages. With Indy's Jump Around, you can trust that your kids will have a blast while you sit back and enjoy the festivities.
We also have the best bounce house rental Fishers has to offer! Also, if you want a waterslide rental near me, we have some excellent Water Slide rentals in the Indianapolis Area.
Recently
Viewed