Obstacle Course Bounce House Rental
Check Out Our Awesome Bounce House Obstacle Courses and Inflatable Obstacle Course Rentals
Adrenaline Rush Bounce House Obstacle Course
Bounce House Rentals are great for parties and events. Most people don't realize there are all sorts of styles and sizes of Bounce Houses, such as a Bounce House Obstacle Course. Suppose you're Looking for the best Obstacle Course, then look no further than the Adrenaline Rush 2. Get your heart racing and adrenaline-rushing with 85 feet of inflatable fun! The Adrenaline Rush 2 is among the Indianapolis area's most popular and challenging inflatables. As soon as participants enter the starting point of Adrenaline Rush 2, they meet a small climbing wall, which foreshadows the final challenge. Successful passage through this section leads to a flurry of horizontal inflatable bars that individuals must maneuver through after participants crawl through the corner turnaround and are met with multiple blow-up obstacles, including upright inflatable tubes.
Adrenaline Rush 2 Obstacle Course
  Bounce House Obstacle Course Rentals
We offer 4-hour, 6-hour, 8-hour, overnight, and weekend rentals at Indy's Jump Around. We Have delivered thousands of inflatable rentals on time to the Indianapolis, Indiana, Area. When deciding the time of your delivery for your event, here is how Indy's Jump Around operates. We always show up anywhere from 15 minutes to 3 hours before your event starts. Our goal is to have your inflatable ready before your start time, so when you book your bounce house and enter, for example, 1 pm for the event, we will have it set up and ready by 1 pm or before. The hours you choose do not include set up and take down times. If your end time is 7 pm, we will show up at 7 pm or after. It's that simple. You can trust that Indy's Jump Around will deliver your obstacle course on time, so your event or party will be a colossal success!
All of our inflatable Rentals are great for all ages, whether adults or kids. When it comes to our Obstacle Courses, we do recommend ages six and up. We offer a package deal with a bounce house obstacle course and a regular bounce house. This package is great for backyard parties or small events. You can keep the kids separated. While the older kids are racing through the obstacle course, the younger children can bounce around all day in one of our themed bouncy castles. Scroll down to check out the obstacle course and bounce house package.
You will need a power source for your Bounce house obstacle course rental. We cannot exceed more than 100ft as this can put a strain on the motors. When deciding on the location of your inflatable, please keep this in mind. We must keep the bouncy castles on separate circuits when renting multiple obstacle courses. The Motors we use draw around 9-11amps, so as long as they are on separate circuits, it should not be a problem. We also offer Generator rentals for significant events and festivals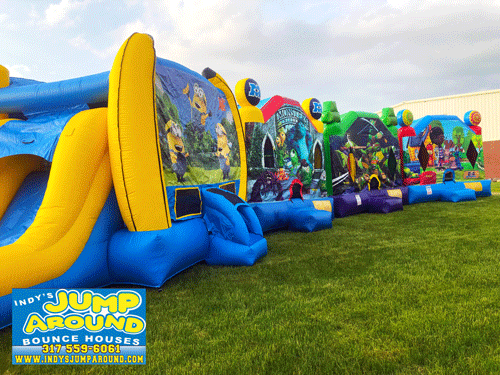 Package Deals
We love big parties and events for schools and churches. Over the years, we have brought the fun for many school field days and fall festivals to schools all over, including; Indianapolis, Greenwood,
Carmel, Indiana
, and Fishers Schools for elementary and High School grade students. The kids love our selection of inflatable rentals in
Indianapolis, Indiana
. We have fun and exciting obstacle courses and bounce houses with slides for all your guest to enjoy. We offer the best "bounce house rentals" in the
Indianapolis
area. Delivering fun is part of our rental service, so no hidden costs are involved. The prices you see on our website accurately reflect your pay; applicable fees may apply depending on setup location, surface, etc. You can Check out all of our Inflatable Package Deals Below.
Bounce house rental Packages