Inflatable Obstacle Course Rentals
Check Out Our Awesome Obstacle Course Rentals and Inflatable Obstacle Courses Rental in Indianapolis
Adrenaline Rush Bounce House Obstacle Course
Suppose you're Looking for the best Inflatable Obstacle Course Rental, then look no further than the Adrenaline Rush 2. This is the best obstacle course inflatable for rent in the Indianapolis area. Get your heart racing and Adrenaline-Rushing with 85 feet of inflatable fun! The Adrenaline Rush 2 is among the Indianapolis area's most popular and challenging inflatables. This Inflatable is great for a Church Event, Corporate event, School Carnival, or even team-building exercises. As soon as participants enter the starting point of Adrenaline Rush 2, they meet a small climbing wall, which foreshadows the final challenge. Successful passage through this section leads to a flurry of horizontal inflatable bars that individuals must maneuver through after participants crawl through the corner turnaround and are met with multiple blow-up obstacles, including upright inflatable pop up tubes.
Adrenaline Rush 2 Obstacle Course
  Bounce House Obstacle Course Rentals
Obstacle Course Rental Time Frame
We offer 4-hour, 6-hour, 8-hour, overnight, and weekend rentals at Indy's Jump Around event rentals. We Have delivered thousands of inflatable rentals on time to the Indianapolis, Indiana, Area. Here is how we operate when deciding the delivery time or your event. We arrive anywhere from 15 minutes to 3 hours before your event starts. Our goal is to have your inflatable obstacle course rentals ready before your start time, so when you book your obstacle course rental and enter, for example, at 1 pm for the event, we will have it set up and ready by 1 pm or before. The hours you choose do not include set up and take down times. If your end time is 7 pm, we will arrive at 7 pm or after. It's that simple. You can trust that Indy's Jump Around will deliver your obstacle course on time, so your event or party will be a colossal success! Indy Jump Around is your best inflatable obstacle course hire company guaratneed!
Obstacle Course Rental Recommend Ages
All our inflatable obstacle course Rentals are great for all ages, whether adults or kids. When it comes to our Obstacle Courses, we do recommend children ages six and up. We offer a package deal with an obstacle course and a regular Inflatable Rental. This package is great for backyard parties, School Carnivals, Church Events, or corporate events. You can keep the kids separated. While the older kids are racing through the obstacle course for adults, the younger kids can bounce around all day in one of our Inflatable bouncy castles. Scroll down to check out the obstacle course and Inflatable rental package.
How To Power Your Inflatable Obstacle Course Rental
You will need a power source for your Inflatable obstacle course rental. We cannot exceed more than 100ft as this can put a strain on the motors. When deciding on the location of your inflatable, please keep this in mind. When renting multiple obstacle courses, we must keep the obstacle course on separate circuits. The Motors we use draw around 9-11amps, so as long as they are on different circuits, it should not be a problem. We also offer Generator rentals for Corporate events and Church or School festivals.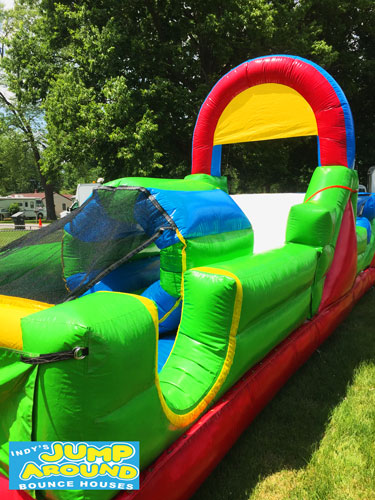 Inflatable Obstacle Course Package Deals
We love Church Events and School Carnivals. Over the years, we have brought the fun for many school field days and fall festivals to schools all over, including; Indianapolis, Greenwood,
Carmel, Indiana
, and Fishers Schools for elementary and High School The kids love our selection of inflatable rentals in
Indianapolis, Indiana
. We have fun and exciting obstacle courses and bounce houses with slides for all your guest to enjoy. We offer the best "Inflatable Obstacle Courses" in the
Indianapolis
area. Delivering fun is part of our rental service, so no hidden costs are involved. The prices you sr the website accurately reflect your pay; applicable fees may apply depending on setup location, surface, etc. You can Check out all of our Inflatable Package Deals Below. Check out the
Disney Frozen
Bouncy Castle!
Bounce Castle Rental
Elevate Your Party with Indy Jump Around Inflatable Obstacle Course and Party Rentals
Indy's Jump Around Indianapolis, IN, is your one-stop shop for party rentals! Whether you're planning a birthday party or corporate event, our inflatable party rentals will make your event a hit. We offer a variety of rental equipment, including our famous indoor bounce house and bouncing house for rent near me. Would you be interested in something more specific? Check out our frozen bounce house rental near me or our inflatable ninja warrior course for a unique twist on traditional party activities. No matter what you choose, we guarantee that our party rental options will keep your guests entertained for hours. So why settle for a bounce house when you can elevate your party with Indy's Jump Around? You can book with us today for an unforgettable event experience.
Adult Inflatable obstacle course rentals
Indy's Jump Around offers a wide selection of adult inflatable obstacle courses in central Indiana, perfect for those looking to add a fun and exciting element to any occasion. Our obstacles come in a wide range of sizes and themes, so you'll be sure to find something that fits your needs. From giant bounce houses and obstacle courses to water slides and sports-themed inflatables, we have everything you need for a successful event. And if you're looking for an inflatable obstacle course rental near me, our team is always just a phone call away.
Our obstacle courses are great for adults too! We offer more significant, more challenging obstacles explicitly designed with adults in mind. Everyone loves the thrill of racing through an inflatable course and competing against their friends and family, so why not rent one of our top-of-the-line adult inflatable obstacle courses? We promise it will make your next gathering even more memorable. Plus, our materials are cleaned regularly for maximum safety, making it easy for everyone to enjoy without worry.
Go with Indy's Jump Around when you want the best in adult inflatable obstacle course rental near me - we guarantee satisfaction every time!
Most Popular and featured Bounce House Rentals
At Indys Jump Around, we have some of the most fun and exciting inflatables in the greater Indianapolis area! For Girls, We have the
Frozen
Bouncy House, Minnie Mouse, and more! For the boys, we offer
Spider-Man
, Toy Story, Monster Inc., and More! We also have
Paw Patrol
, Minions, and Ninja Turtles as well! We also offer
Castle bounce house rentals
, water slide rentals, and many other different options! Make sure to check out all of our inventory and package deals as well!
Best place to set up Obstacle Course Rentals At Your Event
Open spaces are ideal for our inflatable obstacle courses at your party. It needs enough room to move around. Keep a safe area with light and no slipping hazards. You should be near power for at least a minute. Long cord may be restricted. Finally, imagine the purpose of this event. You can make this obstruction visible from behind a vehicle for fundraisers to draw donations. In the context of the privets, the opposite could happen. Whatever the outcome, our team works to set up your business in the most convenient location, and we will overcome any challenges you may have with your inflatable obstacle run inflatable.
Obstacle Courses For Corporate Events, Team Building, Church Events, School Carnivals & Fundraising!
Rentable inflatable obstacle courses are beneficial. It is an excellent way to raise funds and have fun! Having a race on an obstacle course is incredibly effective and a great tool to boost spirits and have some friendly competition. They offer a fun and challenging activity perfect for church celebrations. We recommend our double-lane obstacle course rentals. Customers get to race through tunnels, go through the pop-ups, climb up the wall and slide down the slide. Indy's Jump Around has delivered to many cities in central Indiana, such as Indianapolis,
Greenwood
,
Carmel
,
Columbus
,
Noblesville
,
Zionsville
,
Fishers
,
Columbus
,
Brownsburg
Franklin
, and more! So if your looking for a obstacle course nerby go with the professionals at Indy Jump Around, where we offer the best bounce house rentals cost