Frequently Asked Questions
RAIN POLICY AT BOTTOM OF PAGE

SIMPLE 14-STEP PROCESS
Once you have booked your bounce house, these are the steps on what to expect.

You will receive email notifications and reminders five days before your event.

We will call you on the day of your event when we are around 30-45minutes away.

We will knock on your door and greet you with a smile :)

Our setup crew will discuss the location and where to set up the unit (please have an idea before we arrive)

The Delivery Crewmen will ask you where your power source is (it must be within 100FT)

The Delivery Crewmen will survey the area to ensure it's safe and clear of debris.

We will then process payment; except cash or card, our setup crew can process card transactions on the spot. If you are using cash, please have the exact change. Our Delivery Crew does not carry change.

Once payment is received, we will begin setting up. ( t up typically takes 12-18minutes per unit).

We will anchor and inflate the unit.

Lastly, we will clean and sanitize the unit, so it looks incredible for your party or event.

The Delivery Crew will then discuss all the rules and procedures.

You will need to sign the Renters Liability Contract.

Confirm pick-up time.

You are all Set!

FAQ
Q: Does the price include set up and delivery?

A: Yes, although additional fees may apply for areas farther out. Re ember prices do not include sales tax.

Q: Do you deliver to other cities?

A: Yes, but once again, please be aware that due to rising gas prices and the possible need for an extra truck and labor, travel fees can be pretty high. Please call our office for a current quote.

Q: Does the standard 4-hour rental time include your setup time?

A: No. We arrive early to set up, so you get the entire rental time to play.

Q: When do you set up?

A: That depends on how many rentals we have that day. We arrive 1-3 hours before the rental time begins. If we have a lot of rentals that day, we may need to set up as early as 4 hours in advance. If this is the case, we will call the day before to confirm that someone will be at the party.

Q: We've rented some foul jumps from other companies in the past. Are they always that dirty?

A: No. The Bounce House should be clean when you get it. W Pride ourselves on having some of the cleanest Inflatables in the area. I y's Jump Around cleans and disinfects before every rental.

Q: Do we have to keep it plugged in the entire time?

A: Yes. The inflatables need continuous air flowing through them. That's why we require an outlet within 100 feet of the unit or a generator. Longer cords can pop your circuit breaker, so we bring our heavy-duty cords.

Q: What about parks? Do parks have electricity?

A: We love setting up at parks, but most parks do NOT have electricity. If you want to set up at a park, you must rent a generator. We rent generators for large events (3 or more units) at a reasonable cost. Al o, parks are first come, first serve, so get your spot early in the day.

Q: What payments do you take?

A: Cash or Credit Cards. If paying by cash, please have exact change as our drivers do not carry cash.

Q: What if we need to cancel?

A: We sometimes understand things come up; you are not required to pay the rest of the payment (unless we deliver, then payment is due in total). If you have to cancel, we will issue a rain check for the deposit that is good for a whole year. So you can reschedule any date at any time for up to a year.

Q: Do you require a deposit?

A: Yes, all orders require a $40 Credit Card deposit. In the event of a cancellation, you will be given a rain check that is good for one year.

Q: How big are some of the Inflatables?

A: They range from 15 feet by 15 feet to 20 feet by 20 feet; some are even as big as 50 feet to 50 feet. Please note the space required for multiple Bounce House Rentals. The Inflatables need room to be staked down, and they need room for the blower and can't rub against walls or trees as this may damage the jump. If you have stairs or a tiered backyard, please call our office to discuss options for setup.

Q: What surfaces do you set up on?

A: We can set up on Grass (our favorite and best for the kids), dirt, asphalt, and concrete. We can't set up on rocks as the constant rubbing will wear through the vinyl jumps.

Q: Can we see a copy of your contract and safety rules?

A: Yes. Once you've ordered, there is a link in your receipt, or you may contact our office.

Q: Are we responsible for the unit if it gets a tear or damaged in any way?

A: Yes and no. You are not responsible for everyday wear and tear on our units. Se ms may develop tears in high-traffic areas over some time. If this happens, please alert us at once so we can remedy the situation. If, however, damage occurs due to failure to follow our safety rules or negligence (i.e., not turning off the blower in high winds), you will be responsible for all damages up to and including replacement of the unit/blower, etc.; which can cost thousands of dollars. We don't want you or us to be in this situation, so we have you sign and initial all of our safety rules so that you can be the trained operator.

RAIN POLICY:
We try to be as fair as possible, especially with Indiana weather. We can set up if it's just a light rain or looks to clear up in the afternoon. We usually cancel if it's severe weather, high winds(25 mph), lighting, or flooding. If this concerns, we typically get in touch with everyone the day before and the morning to discuss options. The deposit ($50) is nonrefundable if we do have to cancel. We will issue a rain check for the deposit that is good for up to a year. You will be able to reschedule any date for up to a year.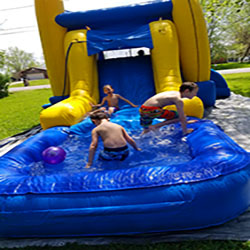 Bounce House Rentals
Kids are obsessed with phones, tablets, and video games. Renting a bounce house for a party gives them a break from these devices and allow them to enjoy some fresh air. Chances are by the end of the party they won't want to come out. One of the best parts of a bounce house is seeing all the kids playing and talking with one another. It creates friendships between the children and gives them a chance to develop their social skills with one another. They get to run around together with their new friends, which is very beneficial for parents with only one child.
Bounce House Rentals Greenwood
Indy's Jump Around Bounce House Rental Company
Indy's Jump Around Bounce Houses has been delivering Bounce Houses to parties and events since 2009. We aspire to be the premier Inflatable Rental Company in the industry. Indy's Jump Around has provided thousands of inflatables for corporate event rentals and even for a kid's birthday party throughout Central Indiana (Indianapolis) and other cities such as
Brownsburg
,
Greenwood
,
Avon
,
Columbus
,
Crawfordsville
,
Noblesville
,
Zionsville
,
Fishers
,
Carmel
, and more! Teamwork, Communication, and Speed are the core values of Indy's Jump Around with the purpose of Customer Satisfaction, Employment Opportunities, and Growth. We offer standard Bounce Houses, Water Slides, Inflatable Obstacle Courses, and more. We are open year around. Our main seasons are Summer, Fall, and Spring, with Winter being our prep season. We offer competitive employee pay, bonus incentives, and company parties. We deliver to Homes, Schools, Churches, Festivals, and many more.