Water Slide Rental in Indianapolis
The Most Exciting Water Slide Rentals In Central Indiana.
Pick the Best Water Slide Rental for your Birthday party or Event. We offer Water slides and bounce house Water Slides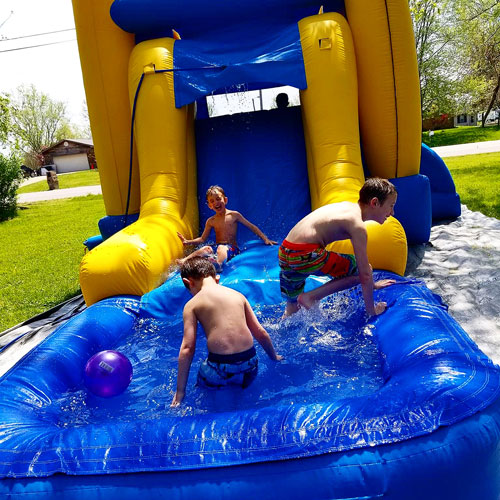 Get an Inflatable Water Slide for your next Birthday Party or Event!
Water Slides are great for the Indiana Heat! We make it fun, safe, and easy to rent water slides for your next party or special event! Our team of professionals can help you plan the perfect party with various exciting water slide rentals. With more than ten years of experience in the industry, we know how to put together an incredible package that will wow your guests and brings out their inner child. We only offer commercial-grade inflatables and a wide array of water slide rentals, including wet and dry slides and bounce houses water slides. We have a superb selection of inflatable slides for you to choose from, and each can be delivered to your next birthday Party or Corporate event! You don't need any experience with water or party planning because our experts will help make sure the perfect slide is chosen just for your needs. We offer affordable rates that certainly not only thrill but also bring joy throughout an eventful day (or night). So explore all we've got on-site; then give us a call if there's anything else. Our growing inventory of blow up Water Slide Rentals means more variety when deciding which type suits you best - save time by letting professionals handle this decision while still getting exactly what your kids will want with these mind-blowing inflatables!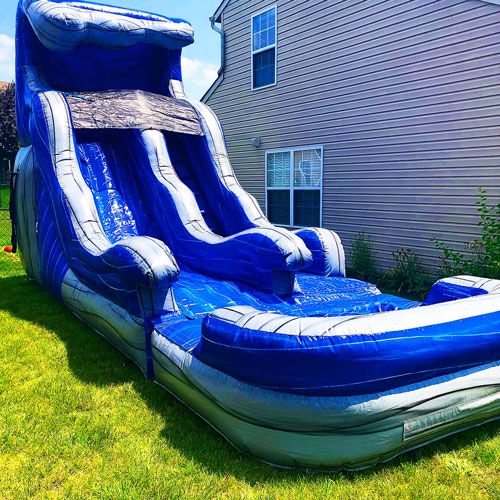 Why Choose Jump Around For Your Indianapolis Water Slide Bounce Party Rental?
Who doesn't love a good water slide? Water slides are perfect for cooling off on a hot day and provide hours of entertainment. They're also great for kids and adults of all ages. At Jump Around Party Rentals, we have the best water slide rentals in Indianapolis, Indiana. Our water slides are always clean and safe for your event, and you and your guests will have an amazing time at your party or event. So, what are you waiting for? Rent a water slide from Jump Around today!
Jump Around Parties & Events
We know there are a lot of choices out there when you're trying to find someone who can provide Water Slides, obstacle courses, or bounce houses for your next event. We at
Indy
Jump Around, Indianapolis' top rental business in central Indiana and a one-stop shop! Whether an intimate family gathering or extravagant wedding reception, our delivery staff will ensure everything goes smoothly. You won't regret hiring us because everyone loves attending events where they get wet. Countless customers rent from us yearly because they enjoy our amazing customer service! Check out this awesome
bounce house package
!
Benefits of inflatable water slides
Who doesn't love a good water slide? They're perfect for backyard parties and keeping cool during the hot summer. Kids and adults can both have a blast playing on these waterslides. Most giant water slides are large enough for people of all ages to play on, making them the perfect addition to any summer event. Best of all, you can usually find adult Water Slide rentals for a reasonable price, so there's no need to break the bank to have some summer fun.
Safety Is Always The Number One Priority with our inflatable water slides
weather you rent a Moonwalk, obstacle courses, or an inflatable water slide, safety should always be a top priority for any amusement equipment - especially when kids are involved! Before booking any service, ensure that their products meet ASTM standards for durability; Indy Jump Around only rents out commercial-grade inflatables. Additionally, Parents should inquire about each company's insurance coverage; reputable businesses should carry liability insurance in case an accident occurs during setup or use onsite at your event. All of our inflatable water slides have slip-resistant material. Finally, never hesitate to ask questions - reputable vendors will always be happy to discuss their products with potential customers before signing contracts to ensure everyone has a great time!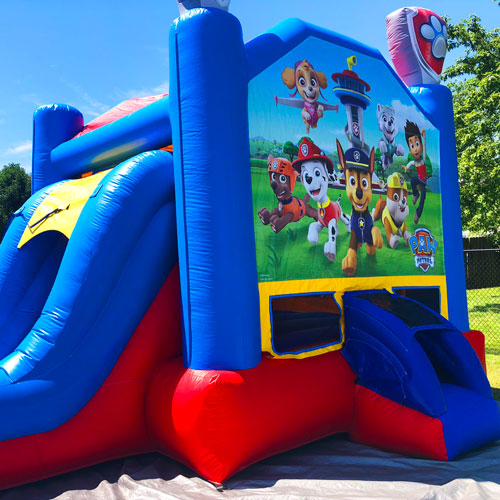 Paw Patrol Bounce house Water Slide Rental Near Me
Looking for the ultimate summertime activity for your kids? Look no further than the Paw Patrol Bounce House water slide from Indys Jump Around bounce houses! This inflatable water slide will surely be a hit with kids of all ages, featuring their favorite characters from the TV show. It has a Slide, basketball hoop, climbing wall, and pool; there's no shortage of fun. The water slide is perfect for those hot summer days providing a cool and refreshing way to beat the heat. This high high-qualityatable unit also features slip-resistant material so kids can have hours of fun! So why wait? Rent the Paw Patrol Bounce House Water Slide today and give your kids the summertime adventure of a lifetime! You can also get the
Paw Patrol Bounce House
Dry!
Paw Patrol Bounce House Water Slide
Water Slide Rental For Birthday Party
A water slide rental can make any birthday party truly special and unforgettable. Water slides are always a huge hit, whether for a child or adults. They provide hours of entertainment and fun as people have the chance to race down the slippery slides. Not only that, but they also offer a safe way to cool off on hot days. Water slides can be rented in various sizes and shapes and come with added features such as splash pools at the bottom or different entry points designed to make them even more thrilling.
Inflatable Water slides are Great for Outdoor Exercise!
For kids, water slides increase their level of physical activity, which is essential for their health and development. It allows children to be active while still having lots of fun. The bright colors, shapes, and designs of water slides also grab children's attention and hold it for hours. Families looking to plan a memorable birthday party should invest in a water slide rental since it will provide great excellent for money by giving young ones something new and exciting to look forward to on their special day.
Water Slide Rentals For Adults
Adults also enjoy water sliding as there is something uniquely thrilling about careening down an inflatable slide into a pool of cool water, all while surrounded by friends and family members. Most companies that rent out these items also set up different games, creating even more opportunities for laughter and friendly competition among those present at the gathering.
The Best Water Slide Rental in Indianapolis, Indiana
In conclusion, renting a water slide is an excellent way to add excitement to any party or celebration where adults and kids can get involved in the fun activities offered by this rental service.
Ninja Turtles
!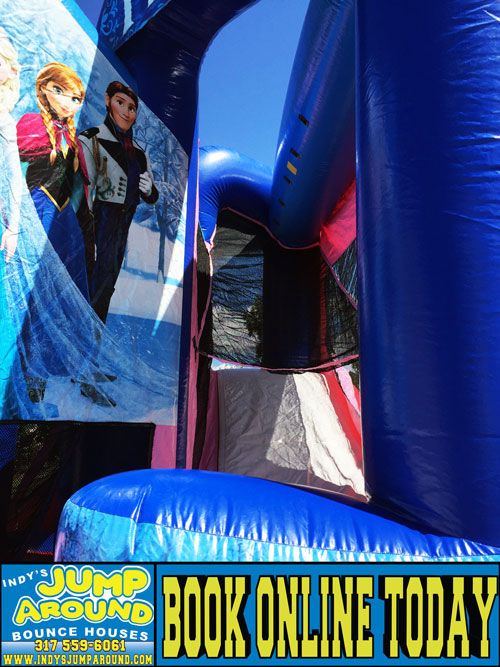 Discover the Best Inflatable Water Slide Rentals
Indy's Jump Around offers the best bounce house water slide combo for a fun-filled summer day. Our bouncing slides are perfect for kids and adults alike, providing hours of entertainment. Our industrial inflatable water slides are made of high-quality materials, ensuring safety and durability. You can enjoy a refreshing dip with a built-in splash pool after sliding down the slide Choose from our best inflatable water slide selection, and let us help make your summer celebration a hit. At Indy's Jump Around.com, we guarantee the best inflatable water slide rental experience. Have your own inflatable water park delivered to your next event!
Water Slide rental
The Best Bounce houses in Central Indiana!
Indy's Jump Around Bounce Houses has been delivering Bounce Houses to parties and events since 2009. We aspire to be the premier Inflatable Rental Company in the industry. Indy's Jump Around offers great service and has provided thousands of inflatable bounce houses throughout Central Indiana (Indianapolis) to cities such as
Fishers
,
Crawfordsville
,
Greenwood
,
Brownsburg
,
Noblesville
,
Zionsville
,
Carmel
,
Columbus
,
Franklin
,
Avon
, and many more! Teamwork, Communication, and Speed are the core values of Indy's Jump Around with the purpose of Customer Satisfaction, Employment Opportunities, and Growth. We offer standard Bounce Houses, Water Slides, Inflatable Obstacle Courses, and more. We are open year around. Our main seasons are Summer, Fall, and Spring, with Winter being our prep season. We offer competitive employee pay, bonus incentives, and company parties. We deliver to Homes, Schools, Churches, Festivals, and many more.
Disney Frozen
!