Get A Themed Bouncy House For Your Next Birthday Party from Indys Jump Around Party Rental Company
Click on one of our Bounce House Options below, select your date and time, enter your event information pay the $50 deposit and you are all set! We offer 4-hour, 6-hour, 8-hour, overnight, and weekend rentals and deliver setup and pick-up! It's as simple as that. So check out our Inflatable Rentals below, and make your reservation for your Bounce House Today! To view, our entire selection of bounce houses, click here
  Standard Bounce House Rental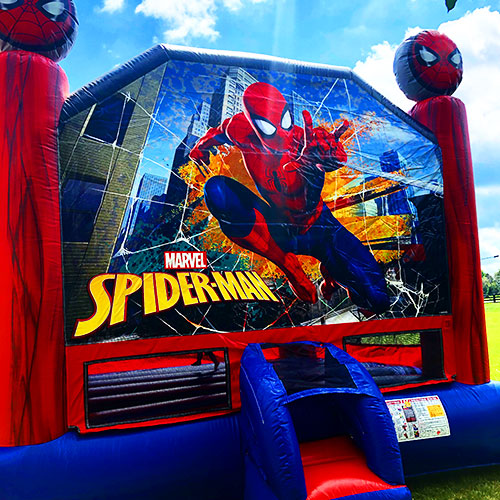 Inflatable Bounce House Rentals For All Occasions
Are you looking for a Themed Bouncy House Rental for your next Birthday Party or small Event? Indy's Jump Around has the perfect inflatable bounce house Rental for your kids next birthday party. We have many different inflatables to choose from, like our famous Disney inflatables like the
Frozen Bounce house
or
Minnie Mouse bounce house
. Parents and kids love these inflatables and Make Memories that will last a lifetime. Do Indy's Jump Around party rentals deliver the
spiderman bounce house
near me? Coming soon, Sonic Bounce House. If you live in central Indiana, then yes, we do! We have delivered to school field days, church picnics, corporate events, Fundraisers, and more; Indy's Jump Around is one of the top choices in the Indianapolis area for delivering fun! You can rent your Bounce House Online! Our convenient online ordering process makes booking your next birthday party a breeze.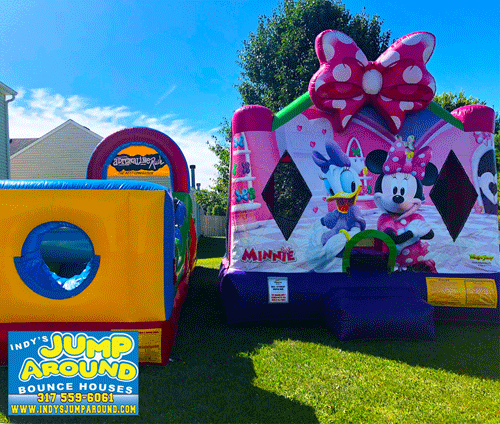 Make Your Child's Birthday Unforgettable with Bounce House Rentals in Indianapolis, Indiana!
Are you looking for a fun and exciting way to celebrate your child's birthday? Look no further than our birthday bounce house rentals in Indianapolis, Indiana! Our bouncing houses are perfect for kids of all ages and will provide endless hours of entertainment. With various jumpy castle rentals, including our popular happy birthday bounce house, you will surely find the perfect one for your party. We also offer carnival game rentals and inflatable rentals to add even more excitement to your event. Contact us today to reserve your bounce house rental and make your child's birthday one they'll never forget!
Minnie Mouse Bounce House Rental
Kids and parents adore this beautiful
Minnie Mouse Bounce House Rental
and will have so much fun with Minnie Mouse and Daisy Duck in this large pink and purple inflatable bounce house! It features bright colors perfect for a little girl's Birthday Party. There's an inflatable ramp at the entrance for easy access; netting vent windows keep kids cool during hot summer days so parents can stay alert about what goes down without worrying too much if they're away or not watching closely enough when younger companions run wild-- just like always ;) Rent it now before supplies run out - only at Indy's Jump Around Bounce House and Party Rentals!" Always Clean, always on time. We offer 4-hour, 6-hour, 8-hour, overnight, and weekend rentals. This
Minnie Mouse Inflatable
features beautiful artwork of Minnie Mouse and Daisy Duck. Just above these colorful characters is a lovely bow.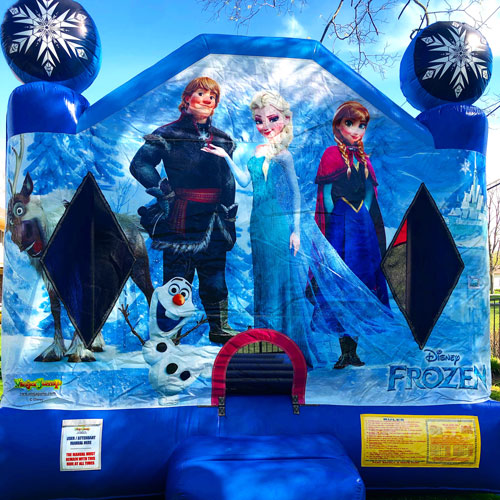 We Delivery FUN To Birthday Parties
WE DELIVER, SET UP, AND PICK UP, ALWAYS CLEAN AND ALWAYS ON TIME! It is the Mission of
Indy's Jump Around inflatable bounce house company
to provide kids and parents with the cleanest, most reliably efficient, on-time inflatable Bounce House. Your reservation for your birthday party is our number one priority. We work hard to ensure that our customer's expectations are exceeded with every birthday party rental. While meeting this commitment, Indy's Jump Around will strive to be the standard for the party rental industry in our territories.
Disney Frozen
Get your Moonwalk Rental Delivered!
At Indys Jump Around we offer a wide range of party equipment to make your event unforgettable. Our moonwalk rental and bouncers rentals are perfect for children's birthday parties, school carnivals, and other fun events. As a family-owned business, we understand the importance of quality and affordability, so we offer competitive pricing and reliable service. Whether planning a small gathering or a large celebration, our team is here to help with your party planning needs. Contact us today to learn more about our bounce house rentals and party equipment!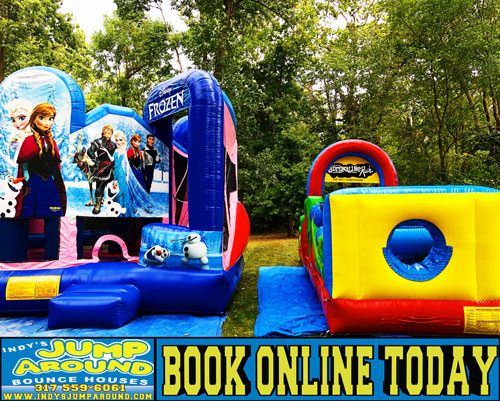 We Always Set up Your Inflatable Bounce House On Time
Indy's Jump Around And Party Rentals
take pride in consistently delivering your inflatable bounce house on time. Here are some things to consider when deciding on your time frame. We always have your inflatable ready by your designated time frame. For example, if your party starts at 1 pm and you schedule your bounce house rental from 1 pm -6 pm, we will arrive anywhere from 15 minutes to 3 hours before 1 pm to have it inflated for fun. We always text our customers the day before with a delivery window and call when we are heading your way! When we pick up your Bouncy House, it is always at your end or sometime after your event.
Ninja Turtles
!
How is My Inflatable bounce house Powered?
When ordering your bouncy house, you must know what kind of power source you have available. Many parents get confused and think the Blower is a Generator. These are, in fact, two different pieces of equipment. A 110-volt standard outlet (regular plug) is required for a blower. If you are renting a single inflatable bounce house with one blower, then it's usually not a problem. We can run an extension to a standard outlet. The Blower pulls around 8-10amps. If you reserve two or more units, we will sometimes need to split the circuits to ensure we blow any breakers. Please Note this does not mean two different outlets. This means we must split up the two blower on the bouncy houses. You can always look at your breaker box to check. If we use a solid 20 amp breaker, we can usually run more than one blower. We can always run one extension cord outside and one inside the house. We will need to be within 100ft of the power source. Unfortunately, we can not add extension cords that extend over 100ft. This will cause a strain on the blower and may cause the bouncy castle not to inflate correctly. Indy's Jump Around will provide you with a 100ft extension cord. We also offer Generator rentals for our more significant events when you Rent
three or more bounce houses.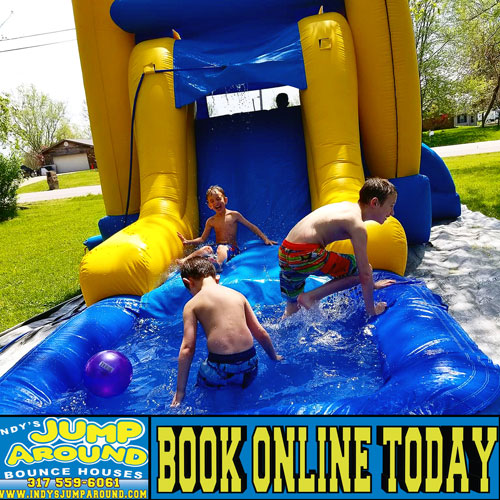 Water Slide Rentals For Birthday parties
Renting a
Water Slide
is great for the Indiana Heat! We make it fun, safe, and easy to reserve a water slide for your next birthday party or special event! Our team of professionals can help you with the steps for the perfect birthday party with various exciting water slide rentals. With more than ten years of experience in the industry, we know how to put together an incredible package that will wow your guests and brings out their inner child. We offer a wide array of
water slide rentals
, including wet and dry slides and bounce houses; water slides are great for kids of all ages. You can check the price of a water slide on our water slide page.
If you're looking for a fun and exciting way to keep your guests entertained, you've come to the right place! We offer a wide range of party rental options, including indoor bounce house rentals that are perfect for indoor events. Our jumper rentals are always a hit with kids, and our combo bounce houses provide even more fun with the addition of slides and obstacles. For those hot summer days, be sure to check out our inflatable water slide rentals, and if you're looking for something with a little more thrill, our inflatable slides are sure to please. Whatever your party needs, Indy's Jump Around has got you covered. We provide high-quality rentals and excellent customer service to ensure your event is a success. So, if you're searching for waterslide rentals near me or any other party rentals, be sure to contact us today!
Indy's Jump Around Bounce House Rentals: Your One-Stop Shop for Fun and Exciting Parties
Indy's Jump Around Bounce House Rentals is the perfect solution for all your party needs in the Indianapolis area. We offer a wide variety of bounce houses for rent, from classic designs to unique and themed options. Whether planning a graduation party or just looking for a fun way to keep the kids entertained, our bounce houses will make your event a huge success where kids will jump and play party all day long! With our competitive rental deals and top-notch customer service, we're the best bounce house rental company in the area. So, when searching for "bounce places near me" or "bounce house places in Indianapolis," look no further than Indy's Jump Around Bounce House Rentals! We Deliver all around Central Indiana to cities such as, Fishers, Greenwood, Columbus, Carmel, Noblesville, Zionsville, and More!